Skills Every Successful CIO Should Have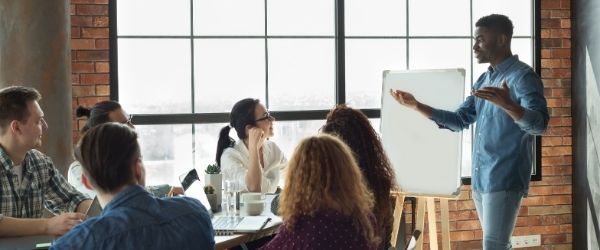 Like most CIOs, you probably figure you know technology cold, can do your job more than competently, and don't need to worry about anything else. After all, if the technology fails, the business stops running…making you indispensable, right?
Wrong! Despite all our amazing technology, businesses are still run by (and for) people. This means that to be successful, a CIO also needs to interact well with co-workers. 
With an eye towards this reality, REF is pleased to provide this overview of the key "soft" skills you need to ensure the people you work with today will still want to be around you tomorrow.
1. Seeing The Big Picture
If you're just focusing on the company's technology, you're missing a trick. A successful CIO needs to see the whole chessboard, including how your decisions impact the entire business. This means you need a working understanding of sales, marketing, profitability, operations, HR, and the needs of every other aspect of the organization. Not only will this ability help you to find, apply and adapt the right technology to each department's needs, but it will also enable you to help drive the conversation and maximize company-wide success.  
2. Relationship Building 
Sure, you're smart. But if you can't form effective cross-divisional working relationships, the company will find someone who can. Look across the business world and you'll find the best CIOs are also their organization's most effective communicators. 
3. Finessing Any Situation
Being tech- and data-driven isn't enough anymore. Today you'd better be able to adapt to ongoing change; be able to train associates; prioritize projects; explain the importance of new technology to the boss; and incorporate new ways of thinking about data and systems. And the moment the CEO introduces a new business objective, you're going to need to synthesize it all to help them understand that your success…is their success. 
4. Thinking Strategically
Like the CEO, you should have a clear vision of where you want to take the organization as a whole. Know in advance what data you really need to capture and how it will be used. Without this, you're leaving yourself wide open to accusations of wasting organizational resources.
5. Connecting Skills And Business Needs
A real leader must identify the business' needs first, connect them to available tech skills and capabilities, and finally communicate how to get from Point A to Point B. It's the difference between being effective and just being efficient. 
6. Providing Commercial Experience
Any CIO who can balance value vs. cost and drive commercially successful products becomes a much more valuable asset to their employer. This dovetails with the trend of IT departments recognizing that their internal users are just one universe of their customers. 
7. Adaptability
Whether you're facing restructuring or rebranding, anyone planning to be successful in this role must be able to adapt to change within both the organization AND the marketplace. Then you'd better be capable of leading your team through the same kinds of transitions. 
8. Emotional Intelligence
Set your doubts aside whether Emotional Intelligence is real. The capability to recognize your own emotions and those of others, discern between different feelings and label them appropriately, and adjust emotions to adapt to environments or achieve your goals is VERY real. Not only that, but CIOs with the highest emotional intelligence are more likely to build trusting relationships throughout the organization. From such alliances come greater success. 
9. Strategic Planning 
We already know you can think strategically, but can you also plan for ways to make the company grow? At the risk of sounding too obvious, you need to take all the knowledge you're collecting and incorporate it into a long-term vision of where the company should be going. 
10. Sales Skills
In case you didn't read the memo, EVERYONE is in sales these days. You're selling when you're trying to get that extra budget allotment or new hire. Meaning you'd better not just understand the concept of selling, but you'd better be good at it too. Because you're going to quickly find that this ability comes in handy for persuading your team and the company's stakeholders on the benefits of that new technology you've been eyeing.  
11. Staying Current
You've probably noticed that between dinner and breakfast, everything in the world seems to have changed. Recognizing that knowledge in certain technology is no longer the driving strategy for success allows you to focus on digital literacy; traits like technology savvy, digital nativeness, out-of-the-box thinking, lifelong learning, speed, being ahead of the crowd, and ease of adoption. 
12. Be Innovative
Any CIO capable of understanding how the various pieces of the corporate puzzle fit together and bringing innovative solutions to the table is going to find him- or herself in a position of increasing responsibility.
13. Disruptive Thinking
Technology can turn industries upside down, which potentially puts you in the driver's seat. Never stop watching for opportunities, including ways to apply one industry's model to whatever business you're in. 
14. Speak Simply 
Nothing frustrates co-workers more than IT teams incapable of speaking in terms THEY will understand. If you really want to make friends and influence associates, learn to synthesize intricate concepts into digestible terms that everyone else in the organization can understand, appreciate, and relate to. 
15. Lead By Example
You'll remain relevant by holding yourself, management, and co-workers up and down the line accountable. This can be supported by encouraging your team to constantly embark on collaborative conversations and being up-to-date on all trends.
At Renaissance Executive Forums, we are connected leaders. Our open communication and sharing of best practices multiply our impact.