Successful businesses are profitable ones: A key to profitability is productivity.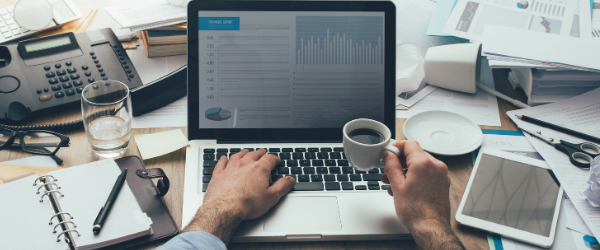 Productivity can provide a boost to several aspects of your business; you may see improved employee morale and greater staff retention, higher levels of customer relations, optimization of resources, and a sharper level of competitiveness. Positive productivity will also raise a company's image, to shareholders, customers, and even to potential recruits.
The following list provides a number of tools for increasing productivity and professional development in your business.
1) Organize, Prioritize and Delegate
Creating a schedule is key to improving performance. A task list that maintains a clear delineation of urgent and essential tasks and highlights work that can be delegated.
Remember when prioritizing, that you sometimes need to say NO. Steve Jobs once said, "Focusing isn't about saying yes, focusing is about saying no".
Delegating is one of the best ways to manage time and allows you to focus on what you do best.
Transferring responsibility to an employee or team also shows faith in staff that you trust them to take ownership and see a project or assignment to completion.
2) Avoid Micromanaging
Employees often view micromanaging managers as controlling and lacking trust in their staff. Productivity and creativity are often stifled in such situations.
Allocate a task or project with a clear and concise set of expectations and let your staff take control of their own work. Support your staff and be available for questions, assistance, etc. but let staff take ownership of their work.
Listen – if your employees make frequent comments or jokes about your constant hovering or controlling a project, heed the cue! Micromanagement is top complaint employees have about their bosses.
Micromanaging compromises the time of company leaders, creating a lot of unnecessary work onto already full schedules.
3) Single Tasking
Whereas the ability to multitask was once a desired attribute, studies (including research from Harvard and Stanford) are now finding that multitasking actually results in lost time, stress, and a general decrease in productivity.
Committing to too many tasks often slows down completion rates and leaves staff more prone to mistakes.
Businesses are now finding that employees who have a concise list of tasks and a set goal are more productive and show lower levels of stress.
If you are a committed multi-tasker, the Pomodoro Technique is a great starter lesson – focus on a single task for 25 minutes and then take a 5-minute break. You can adjust the times but you basically want to focus as long as you can with a bit of a lull before starting again.
4) Set Goals and Milestones
Establishing realistic goals, as these should easily be met. If the realistic goals are overachieved, this will further boost workplace morale.
Goals, milestones, and deadlines can all help focus staff to finish a project on or ahead of time.
If big projects become overwhelming, breaking those into smaller sections can help staff stay motivated.
Goals and milestones will also provide feedback for more frequent evaluations of work performances.
Enjoying success, large and small, when milestones are met, can be a great motivator when moving onto the next project. Ongoing recognition ensures employees know their value.
5) Reduce Distractions & Interruptions
When we are most productive, we are focused and when we are focused, we are most productive, yet we all regularly battle distractions and interruptions throughout the day.
Develop a system where you can work without being interrupted and where there is a clear understanding of "do not disturb" times.
Setting "open" office hours, closing your office door, working from home, blocking notifications, etc. will help maintain focus.
Assess your office set up for any areas of improvement for staff needing quiet areas.
6) Communicate Effectively
Tantamount to a successful business is an efficient system of communication and a consistent communication channel.
Offering a clear statement of organizational direction, mission, and goals spur staff to contribute to achieving great things.
Staff require clarity when it comes to expectations, overall goals, job roles, and company hierarchy. This also helps workers keep one another accountable as they know what is expected of them and what work their co-workers are doing. This should lessen misunderstandings throughout the company and speed up and improve conflict resolution.
Effective communication will also instill a positive corporate culture as good working relationships are developed.
7) Training
Personal growth and development opportunities increase staff motivation and productivity. Your employees will be successful if they have all of the required tools and resources.
Staff should be encouraged to seek challenges and be provided with opportunities to meet their aspirational needs.
Employees can feel lost and frustrated when they do not know what to do but with the correct training, the same employees can become more confident and productive.
Development plans also help employees engage with their work and envision a more lasting career within the company.
8) Technology
Use the right technology tools for your business and employees, whether it be digital workplace platforms, collaboration tools, or workforce communications.
Keep abreast of technological advances, modern platforms, and new tools, apps, etc. and adapt where necessary.
Technology can connect a dispersed workforce and also be used to enable collaboration amongst employees.
During this pandemic and for the unforeseeable future, technology can be relied on to help remote work more seamlessly whether if it is from onboarding to providing access to group collaborations or to bolstering employee engagement. Now more than ever we want to show our employees that their well-being and work-life balance are paramount.
9) Mentor / Mentoring
By designating more-experienced employees as mentors, you are recognizing them for their knowledge and expertise and promoting their leadership qualities while simultaneously providing support to newer or less-experienced employees and facilitating their professional growth.
A mentorship program shows your staff that you value the personal development of both the mentor and the mentee. This not only builds morale among employees but can also be used as a recruitment tool.
A mentor can help enhance skills, share experiences and offer a new perspective
When you become a mentor, this facilitates not only your own professional growth and that of those you are coaching, but it can also make you a greater asset in your business community.
10) Lead by Example
Whether "leading from the front" or "leading from behind" integral to success is leading by example and avoid inconsistency and hypocrisy.
Employees are more engaged and productive when they work in an encouraging workplace with understanding and empathetic leaders. Understanding your employees and their needs can inspire their confidence in their work and their loyalty to their company.
Informal meetings, such as Town Hall meetings, casual team huddles, and fireside chats, take a more conversational and personal flow and hopefully allow for more frank and satisfying conversations.
Transparency can also foster a sense of inclusion and empowerment for employees. Note that the level of transparency will be different in every business but at the very least sharing results, updates, etc. will encourage employees and productivity.
Priorities will differ from each company and an increase in productivity is not always an easy deliverable but taking on some of the above strategies will help maintain and enhance productivity and professional development in your business. And we all appreciate that a highly effective and productive business is a successful business.